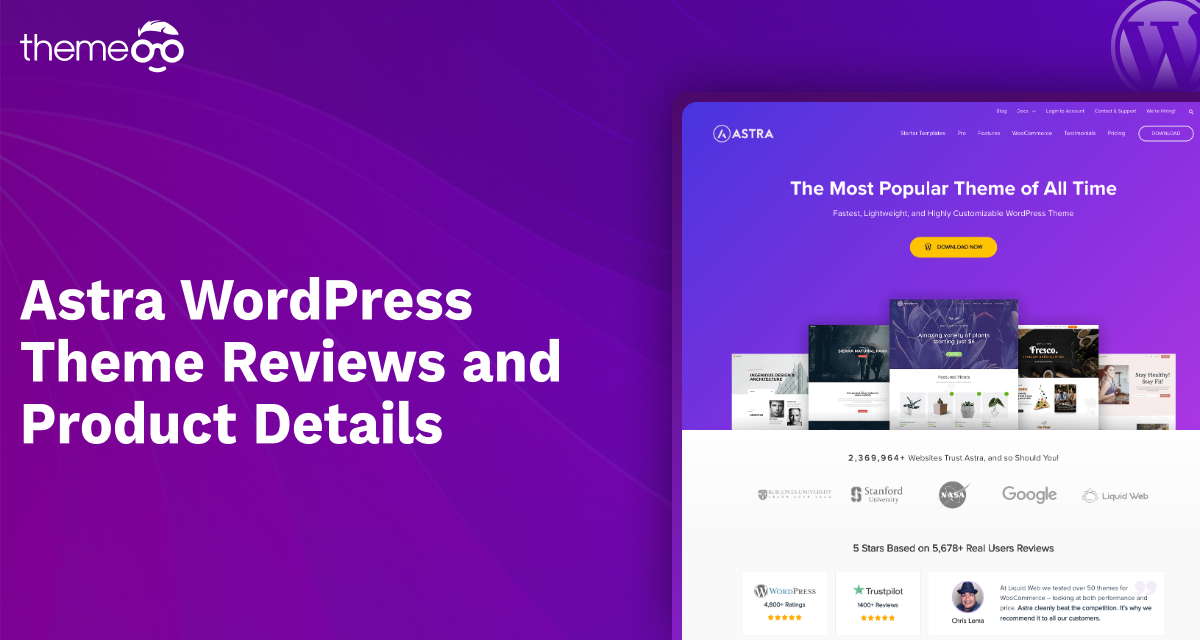 Astra WordPress Theme Reviews & Product Details
Astra is one of the popular WordPress themes with so many features and functionalities. The theme has 1 million active installations. But every website owner has different requirements and needs. So you might be wondering if the theme is perfect for your need or not. This article will help you to find out the solutions as we are providing a detailed review of the Astra WordPress theme.
Astra is a very popular free Elementor WordPress theme with so many features. It is super customizable, lightweight, and easy to implement. This theme is also WooCommerce supported so you can use it as an online shop also. It offers many unique features and all of these features support customization. Astra is made with user-friendly code so for developers it will be easy to customize the code.
Astra WordPress Theme
Pre-built websites
Customize without code
Easily integrate with Page builder
Superfast performance
Layout settings
Colors and typography
No jQuery
How to install Astra in WordPress
To install the Astra theme go to their official website WPAstra and download the free version of the theme. A zip file named "astra.zip" will be downloaded and to install the theme go to your WordPress website and log in to the dashboard. To install the theme go to Appearance > Themes where you can see all your available themes. From this page, you can add the theme.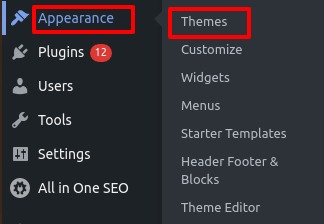 To install the theme click on the add new theme option, it will open the WordPress default theme directory. Search for Astra in the search box and the theme will appear. Just click on the install button to install the theme.  

  It will take some seconds to install the theme. After successfully installing the theme you can see the live preview of the theme from the preview option. To apply the theme to your Website click on the Activate option.  

  Your theme is activated. Customize the general settings of the theme from the customize option.  

  You can see many customization options available. You can set the global setting, set header, footer, sidebar, etc from this option.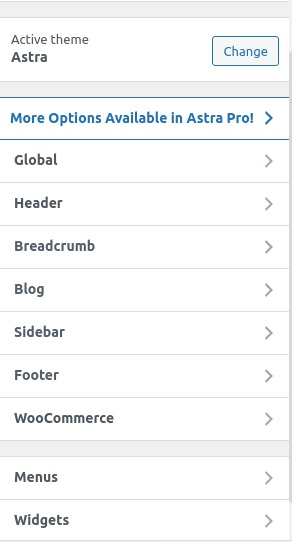 General
From the General option, you can set global typography, colors, containers, and buttons. Typography There are two types of typography options are here base typography and headings. Base typographies are the body and content text. You can set global font family, size, weight, line height, and others for all body and content text.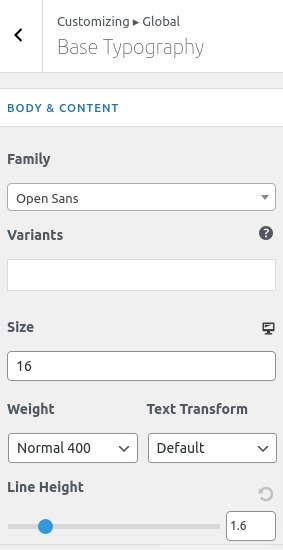 Similarly for all the heading text, you set some global style following the same way. Colors You can set the base color of your website from the color options. You can set global text color, theme color, link color, etc from here.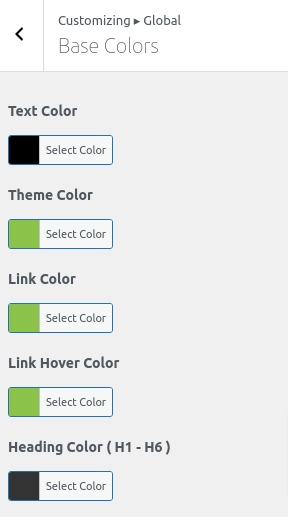 Container From the container option, you will be able to set width, layout, page layout, and other layout settings for your website.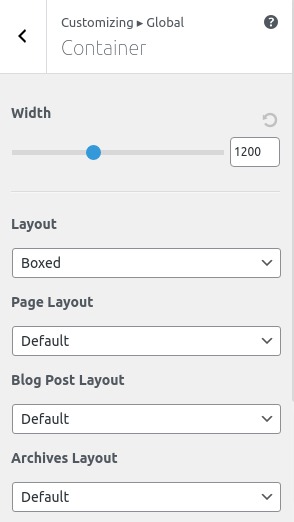 Buttons You set the global button style from here.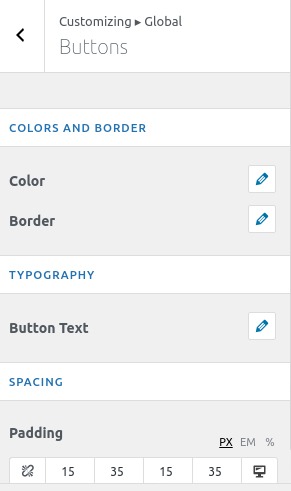 Header
Here you will find four options to style your website header section.
Site Identity
Primary header
Primary menu
Transparent header
Site Identity It will represent your website identity. You add your website logo, website icon, the title for your website, and tagline of your website. You can display different logos for different devices too. There is also an option to enable or disable the site title and tagline. You can set all of these from here.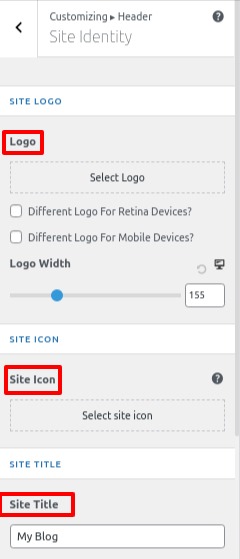 Primer Header You can choose your header layout for desktop and mobile devices from this page. For desktops three different header layouts are available and for mobile devices two types of layouts are available. You can set the width as full width or content width and set the bottom border size.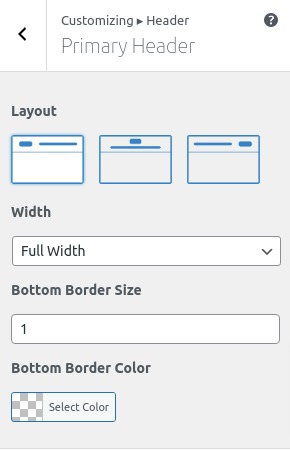 Primary menu Set your website menu for mobile and desktop devices from here. You can set menu items, container animation, border, color, etc. Transparent Header Enable the transparent header and set a different logo for the transparent header. You can also have the option to set logo width, bottom border size background everything for a transparent header option.
Sidebar
You can set the settings for a global sidebar. You can set a sidebar layout for pages, posts, Woocommerce, and archive pages.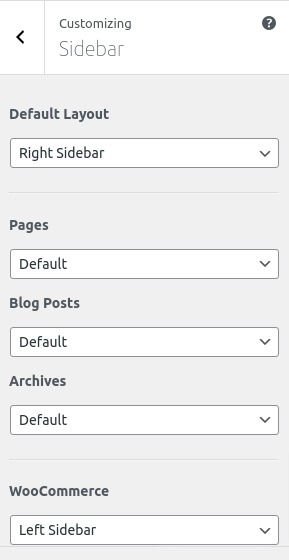 Footer
For footer settings, there are two options footer widgets and footer bar. From the footer widgets, you can set the footer layout. From the footer bar, you can add the copyright text for your website. You can set the footer width, border, and border color. You can also set the footer section and choose which element to show in which section.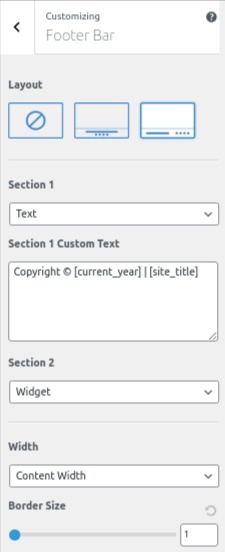 There are also options to add additional CSS so you can style your website as your own. After selecting all the global settings click on the publish button. Your theme and all the setting are live now. Let's take a look at how your website will look after publishing the Astra theme.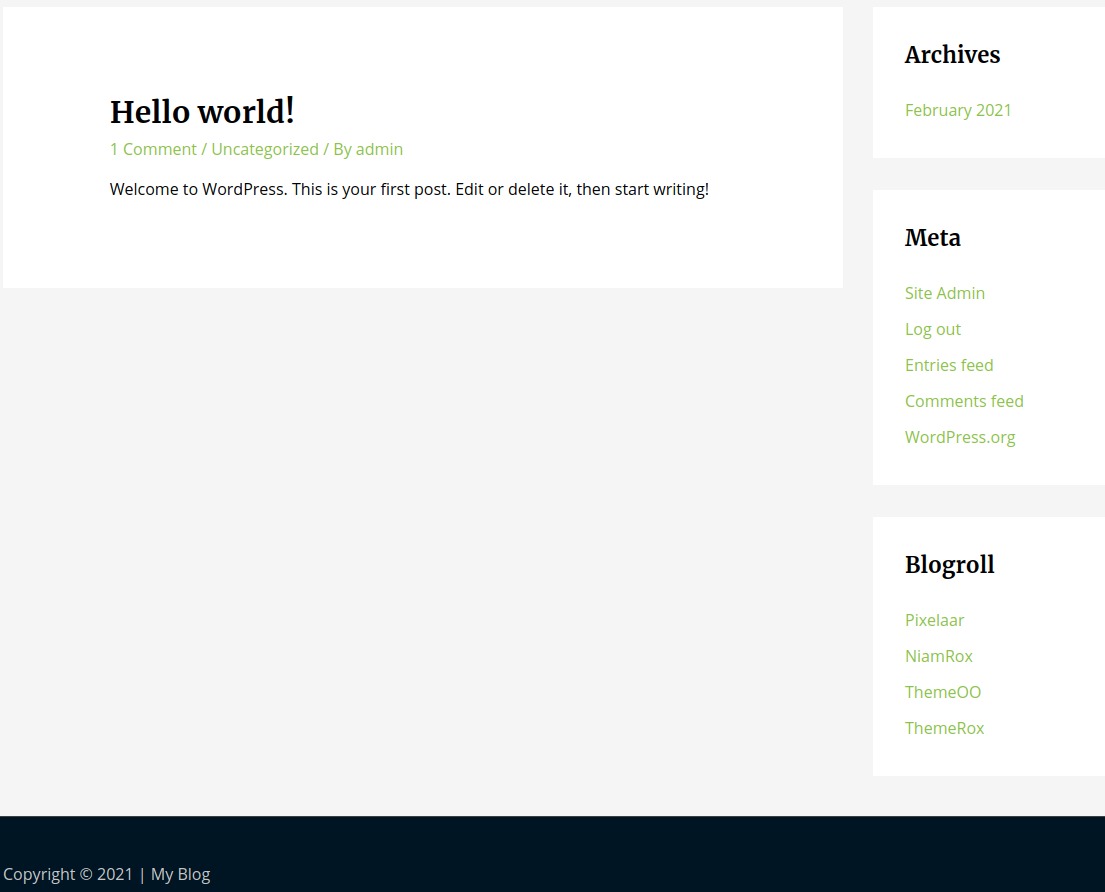 After installing and activating the Astra theme you will be able to see the Astra option in your WordPress dashboard from there you can implement all the features and functionalities available for this theme.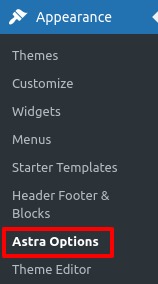 From the Astra options page, you can upload your logo, customize fonts, set colors, header and footer settings, and many more things. You can also set the layout and sidebar options too. Many more options are also available for the pro version.

  Astra also offers you some of its free plugins. You can install the plugins to extend the functionalities of the theme on your website. You can easily install any plugin by just clicking on the activate button.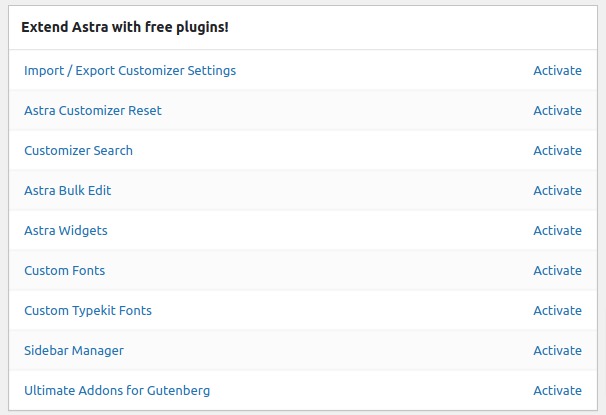 How to import the Astra demo to your website
Astra has many starter template collections from there you can easily import a demo for your website. From the starter template library, you can import a full website or you can import any specific page. To import the demo you need to install the Astra Starter template plugin. After installing and activating the plugin you can see the starter library option. Click on the see library link and all the starter templates will show up. You can preview the template and import the full demo on your website.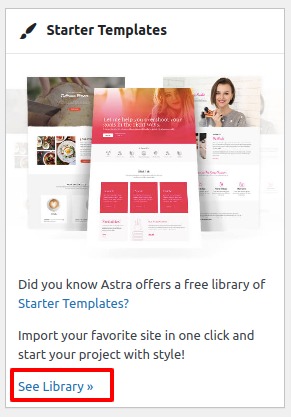 There are different types of starter templates available for different industries. Astra has a starter template for agency, lifestyle blog, tour and travel, eCommerce, and many more business industries demos are available. Some of the templates are free and some of the templates are available for the pro version.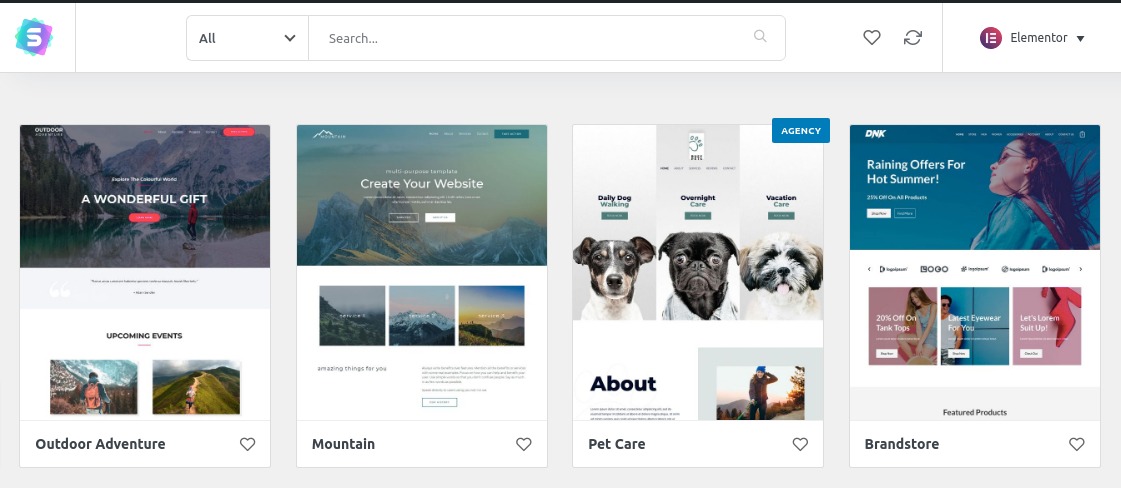 To import any demo just click on it and you can see all the available pages and functions of that from the preview option. You can import any specific page or can import the full website. Just click on the import complete site button to import the full website.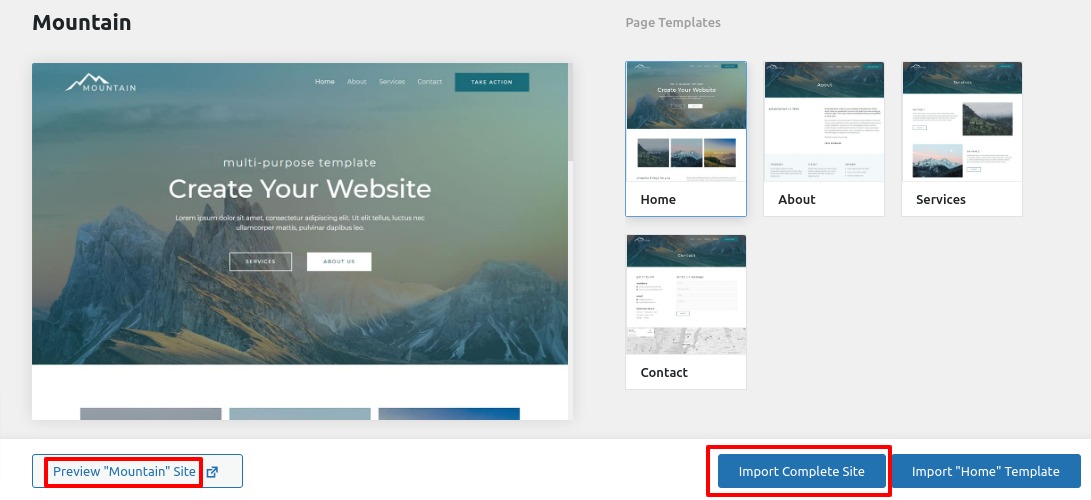 Now the demo will be uploaded to your website you need to set some options before uploading the demo like updating plugins or not, deleting previous data or not, importing or customizing the site, etc. Check the boxes and click the import button. It will take some time to import the demo. After successfully installing the demo it will show you a success message. Now go to your website and see how your website looks. Your website will look like a demo.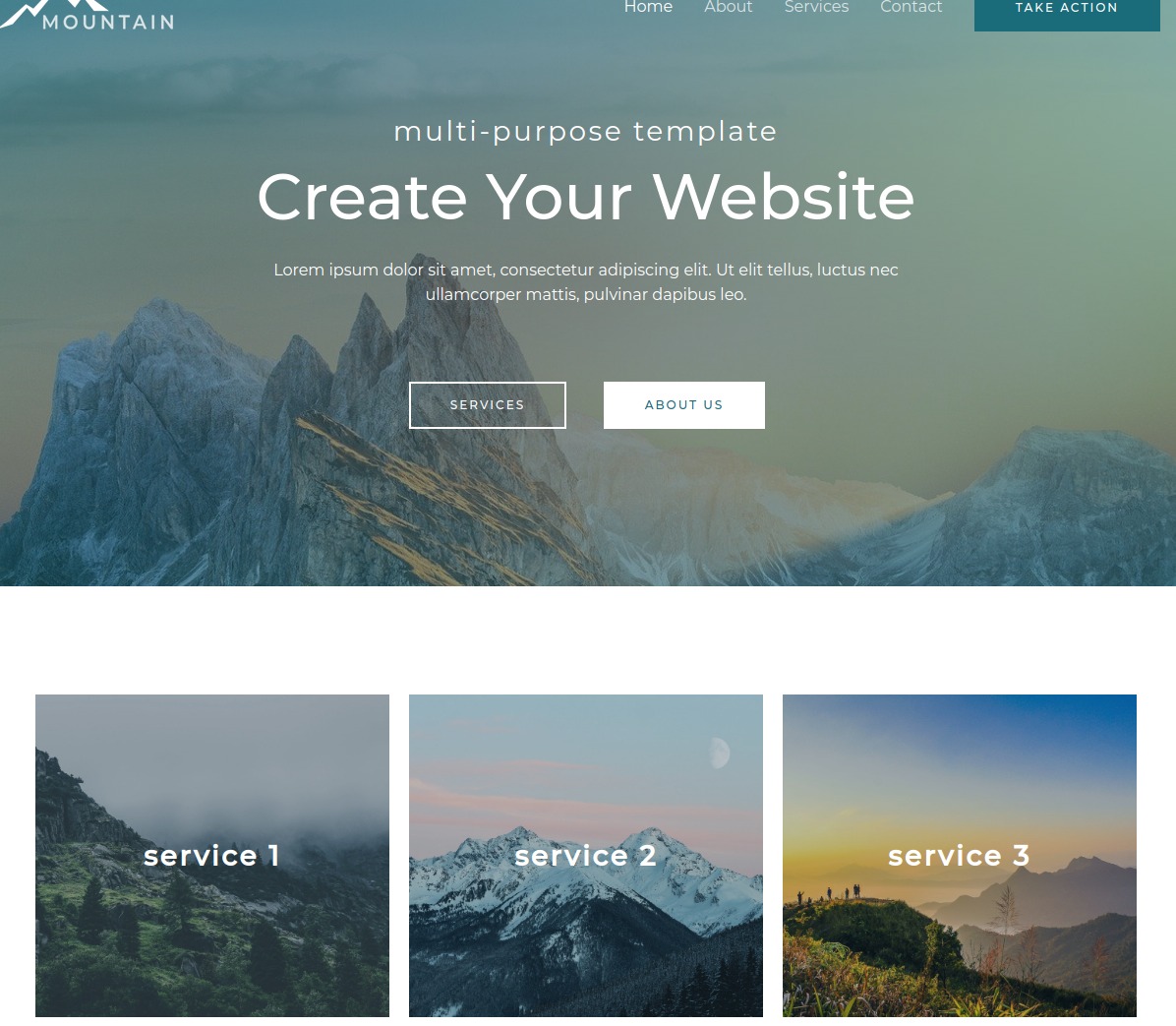 Now you can edit the text and images based on your need and business purposes. Using Elementor you can easily edit the content. You can see our article to learn how to Edit a page with Elementor using a pre-built template
Download Astra WordPress Theme
Wrapping Up
This article will help you to understand the features and functionalities of the Astra WordPress theme. Reviewing the article you will understand is the theme suitable for your website or not. You can see our other articles too
Ayyash – A base WordPress theme for your need
Best Free Elementor Themes in 2023
We hope this article will help you. If you like this article please like our Facebook page to stay connected.